Case Study: Inclusion eLearn for youth workers
CLIENT:
National Citizen Service
PROJECT TITLE: 
NCS Inclusion Training
MY ROLE AND RESPONSIBILITIES: Needs Analysis, Instructional Design, eLearning Development, Graphic Design, Project Management, Evaluation
TOOLS USED:
Storyline 360, Adobe Photoshop, Adobe Illustrator, Audacity
NCS Trust required Inclusion eLearning focused on helping the workforce in their network to run inclusive NCS experiences for young people.
While NCS Trust already provided significant training around safeguarding young people, there wasn't much on diversity, inclusion or equality
Owing to COVID-19, NCS had not run residential experiences in the previous two years
There were several examples of young people and parents/guardians expressing how staff struggled to meet the needs of all participants
Due to the factors above, I focused the design and development of the eLearn on running inclusive residential experiences.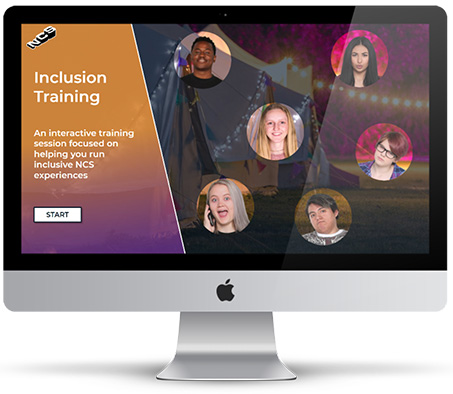 Provide staff with the knowledge and skills to create an environment where every young person feels included and safe to be themselves
Staff that work directly with young people
Staff are mainly seasonal/non-professional
Approximately 82% of staff are under the age of 25
Approximately 35% of staff are new to the role
I decided an interactive story-based eLearn was the best option to meet the objective. The learner plays the role of an Assistant Team Leader working on their first NCS residential experience. Within the story, learners encounter several young people. The learner's mission is to get to know the individuals and make the right choices so that every young person enjoys a full, positive NCS experience.
For the solution to be effective, it had to do several things:
To ensure I created an effective solution, I completed several critical tasks during the design and development. These included:
Through some of the above activities, I gained a deep understanding of the historical challenges and why they might exist, through to best practices and things that worked well.
HELPING LEARNERS TO REMEMBER KEY POINTS
I designed two main ways of helping learners to remember the key points. 
Learners learnt the same key concepts, in different ways, and in multiple scenarios
I created an easy-to-remember acronym to help learners remember six key points
If learners remembered nothing else from the eLearn other than "Hurray" and implemented what each letter stood for, they were well on their way to running an inclusive NCS experience.
Hidden needs will often exist in any given cohort of NCS. These are needs you weren't aware of before the experience started. Keep your eye out for them and adapt to them as appropriate
Understand as much as possible about each participant before the experience starts. However, remember that the file is not the person. You still need to get to know them one on one
Reasonable adjustments are sometimes needed to make your NCS inclusive for all. Failure to make reasonable adjustments, when appropriate, can massively impact a young person's experience 
Rooms that can be used as a quiet space can be vital for participants who need time away, to reflect, some downtime or for those that need a prayer room
Ask advice from a senior whenever you are unsure. Your team leader, wave leader or safeguarding leads are a great source of input
Young people should be involved with how they are supported. Ask them how they would like you to support them as early as possible and always use supportive language
NCS uses various quantitative and qualitative methods to evaluate a young person's experience and provider practice. This analysis takes place near the end of each year. When compared with previous years, NCS aims to use this information to measure any improvement.
In the meantime, we implemented a survey at the end of the eLearning to get initial feedback. This survey could serve as a baseline to help NCS improve its future offering. At the time of writing this case study, there were 570 responses to the survey.
The survey evaluated Level 1 of the Kirkpatrick model of evaluation. It checked the degree to which they found the eLearn favourable, engaging and relevant to their jobs. Below are the results.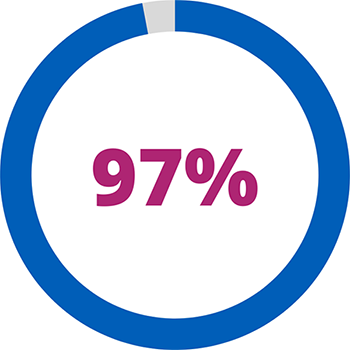 92%
On a scale of 1-5 (1 being unconfident and 5 being extremely confident) 92% of learners rated their confidence in applying what they'd learned above 4
89%
On a scale of 1-5 (1 being not engaging at all and 5 being extremely engaging) 89% of learners rated the engagement of the inclusion eLearn above 4
93%
On a scale of 1-5 (1 being poor and 5 being outstanding) 93% of learners rated the inclusion eLearn overall above 4
Here's what the CEO of NCS Trust had to say.
Carlton is a talented individual who makes a huge difference. He is engaging, easy to work with and has strong emotional intelligence and a great sense of humour. This allows him to get close to individuals and to question, coach, shape and influence their thinking which in turn provides clarity on the brief for the work that needs to be done. Then with creativity, professionalism and a proven track record of delivery he creates excellent elearning interventions which exceed expectations.
To schedule a free, no-strings 30-minute consultation, simply select the 'LET'S TALK' button and provide me with the requested details about your project.
Want to see more of my work?
Select the 'VIEW MY WORK' button to explore my portfolio.